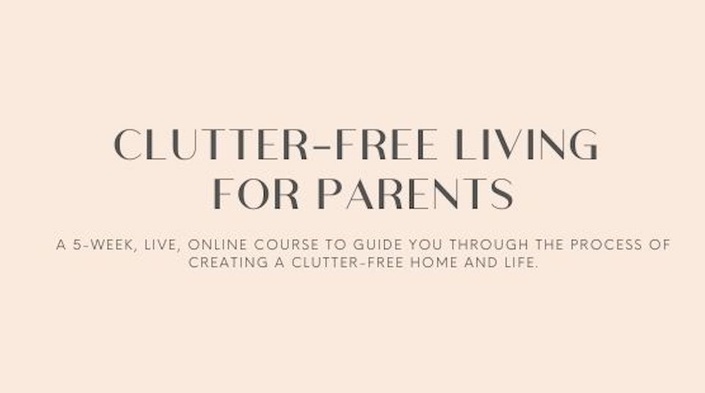 Clutter-free Living for Parents
A 5-week, live, online course to guide you through the process of creating a clutter-free home and life.
A 5-week live, online course to guide you through the process of creating a clutter-free home and life for you and your family.
November 12th - December 17th (Thanksgiving off)
Do you find yourself...
Spending your precious time and energy caring for your children's stuff, instead of enjoying time with your children?
Longing for a clutter free home, but feeling that you don't have time or skills to make it happen?
Feeling stressed in the very place (your home) that is meant to be a respite?
Tired of constantly picking up after your kids?
Overwhelmed by the amount of stuff in your home?
Managing instead of living?
Then this course is for you!
Imagine ….
Freeing up time, energy, and space, so you can be fully present to enjoy your life with your family
Living in a home filled only with things you love and use
Moving through your daily routines with ease, knowing that everything is in its place
Regaining/ reclaiming the time and energy that clutter and disorganization depletes.
Being inspired and empowered by a home you love
Experiencing the peace and joy that come from living a clutter-free life.
Achieving these goals with simple, doable steps
Discover how easily you can stop feeling overwhelmed, exhausted and defeated before the day even begins.
The Clutter-free Living for Parents Course Includes:
Five 1-hour live presentations including time for coaching and Q&A
Access to a private Facebook Group where you can ask questions, receive support, and connect in between classes
Downloadable PDF's that include:

A checklist of action steps for the week to keep you on track
Resources
Presentation slides
Bonus:
Access to our recorded online course Create a Peaceful Home By Clearing Clutter, which includes:
40 minutes of video instruction including demonstrations in Laura's home
5 downloadable PDF's
A free online course about How to Make Nutrition Fun (including recipes and meal planning tools)
You will learn how to :
✓ Clarify your unique vision and highest ideals for yourself and your family
✓The four keys to preventing children's clutter.
✓ How to get inspired to start clearing by understanding the real reasons clutter holds you back and negatively impacts you and your family's life.
✓ How to tackle the clutter that's often the hardest to let go of such as sentimental objects, items you inherit, unwanted gifts, and expensive purchases.
✓ How to identify the types of clutter that may be less obvious, but are often what's getting in the way of your happiness and holding you back.
✓ A three step process to clear clutter that even the busiest of parents and professionals can accomplish.
✓ How to clear your inner-clutter to gain peace of mind.
✓ How to incorporate intention in every step of the process so that as you transformyour home, your transform your life
✓ When and how to involve your children in the process of clearing and organizing
✓ How to organize toys, artwork, and schoolwork
✓ Steps to maintain a clutter-free home and prevent new clutter from accumulating.
✓ Develop a mindset and adopt practices for making peace with your home and possessions, so you can enjoy everyday life
✓ PLUS… we will share the cause of all clutter and the key to preventing new clutter
"When we clear our clutter, our vision for parenting- the way we hope and imagine it can be- is revealed." - Clutter-free Parenting
Schedule:
Course runs from Thursdays at 11 AM PST from November 12th- December 17th (Thanksgiving off)
Week 1 :Clarify & Prepare
Why clear clutter?
Imagining your ideal home and life
Clarifying outcomes and intention
Prepare to clear:
How to clear Inner clutter
The Clutter clearing plan
Materials on hand/ resources for donations
How you clear as important as what you clear
Week 2: Clear
What is clutter?
Different types
Common children's clutter
4 step process to clearing
3 guidelines
Tips for clearing
How to give away with gratitude and intention
When and how to involve kids in the process
Week 3: Declutter coaching
How to let go of challenging items, such as: sentimental items, unwanted gifts, inherited items, expensive purchases *This week the presentation will be shorter as more time we will devote more time to answering questions that arise during your decluttering.
Week 4 : Organize
How to organize
Key to developing tidying habits and avoid procrastinating
Tips for toys, schoolwork, photos, and artwork
Tips for sleep
Tips for eating areas
Tips for play areas
Week 5: Maintain and Prevent
What is at the root of all clutter and a key to clutter-free
4 keys to Prevent children's clutter
Habits to prevent clutter
Making peace with your home
Celebrate: how to uplift your energy and the energy in your home
How your home can support your self care routines and
The magic of appreciation
"The more we simplify and the more spaciousness we create in our homes and lives, the more we can be present for what truly matters. We can't aim for perfection, but we can aim for love and all that comes from it." - Clutter-free Parenting
Your Instructor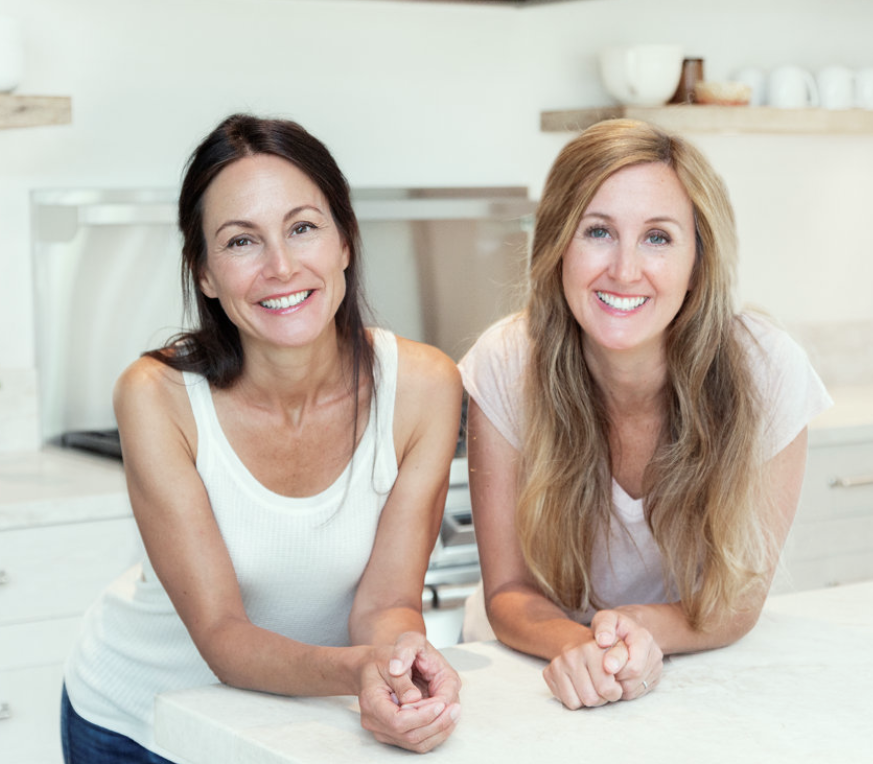 Laura and Alison are sisters, mothers, authors, speakers and co-founders of the lifestyle company, InspiredEverydayLiving.com. They wrote, Clutter-free Parenting: Making Space for the Magic of Childhood and Joy of Parenthood, The Peaceful Nursery: Preparing a Home for Your Baby, published by Random House, and Love at Home: The Single Girl's Guide to Feng Shui and Life Design.
Over the years, they have consulted with hundreds of clients from New York to LA. They have been featured on television and radio including the Today show, KTLA, KCAL CBS News at Noon, the Jennie McCarthy Show and in publications that include The New York Times, The Washington Post, The Chicago Tribune, Traditional Home, C Magazine, Angeleno, Daily Candy, and The Hollywood Reporter. They have also contributed to magazines and websites including Natural Home, YogiTimes, Intent.com, and Positively Positive.com.
Laura has a a Masters Degree in Spiritual Psychology from the University of Santa Monica and a Bachelors from Northwestern University and she is a Simplicity Parenting Coach ®. Alison has a Masters Degree in Education from Harvard University and a Bachelors from Tulane and is a Soul Coach ®. They are both graduates of The Western School of Feng Shui.
Testimonials:
"Laura and Alison are engaging presenters. What I enjoyed most about their talk was the inspiration I received to take immediate positive actions. I went home after their talk and spent a few hours decluttering my home space and as a result, it felt so much better! Since the talk, I have returned again and again to their simple yet profound tips to create positive energy in my home." - Kathryn G.
"Laura Forbes Carlin was the highlight our Spark Women's Speakers series, offering a lively and engaging look at how decluttering our homes actually helps to declutter our souls. Warm and accessible, Laura actually made the daunting prospect of clearing physical/emotional clutter sound appealing." - Amy T.
"A couple of years ago I had a consultation with Alison. I'm convinced that the session changed my life and my surroundings. From the consultation I learned about changing the energy in my living space to promote health and prosperity in all areas of my life and how to clear and rid myself of clutter. Prior to the consultation I had been through a series of dysfunctional relationships, and the prospects at finding my true love were rather bleak. Soon after the consultation and after enhancing my love corner, I met the most wonderful man on earth and after a short time we are now engaged. My love life is not the only area that improved, I've also made career and life changes as well. I can't thank Alison enough for her contribution toward all the positive changes in my life, I'll be forever grateful." - Lina D., Client
Frequently Asked Questions
When does the course start and finish?
The course begins November 12th and completes on December 3rd (Thanksgiving off).
How long do I have access to the course?
After enrolling, you have unlimited access to this course materials and handouts for as long as you like - across any and all devices you own.
What if I am unhappy with the course?
We would never want you to be unhappy! If you are unsatisfied with your purchase, contact us in the first 30 days and we will give you a full refund.
Where will the live sessions be held?
All live sessions will be held on ZOOM.