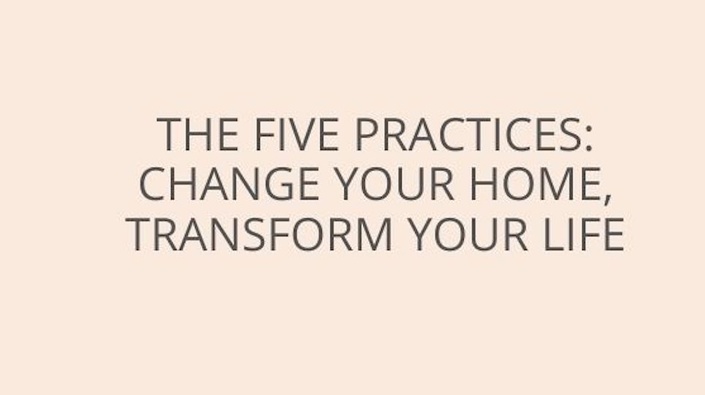 The 5 Practices
Change Your Home, Transform Your Life
For a limited time only, use coupon code NEWYEAR100OFF for $100 off!
The 5 Practices: Change Your Home, Transform Your Life
A 6 week live online program to guide you through the process of making simple changes to your home to transform your life.
February 3 – February 24
Every Wednesday, February 3 - February 24, 2021, 5PM PST/ 8PM EST*
*Can't make it LIVE? Classes will be recorded for anytime access.
Ready to uplevel your life, but don't know where to start? You've come to the right place.
If you are looking to improve a specific part of your life—your finances, your relationships, your work, your health—or if you want to experience more love, joy, peace, and freedom in your life—you can achieve these goals by making changes in your home!
No matter what type of home you live in, (studio apartment, house, shared, single,) your home can be a source of joy, support, inspiration, and the primary channel through which you create your ideal life.
We will teach you 5 practices: Clarify, Clear, Create, Connect, and Celebrate to transform your home and life.
Through actionable tips and step-by-step guidance you will learn how to make simple changes to your home that will positively impact your life (most of the changes we suggest do not cost any money and we will always have a no-budget option).
A wonderful benefit to working on your home is that results are immediate and tangible! You will feel better right away, and soon after, the life you want to manifest tends to follow. And it's fun! We all love to improve and enhance our living spaces.
Do you find yourself?
Working hard and doing everything "right" but not moving closer to your goals?
Overwhelmed by the amount of stuff in your home?
Losing steam on following through on your New Year's resolutions?
Living in a home that doesn't reflect the best of you are and who you wish to become?
Feeling stuck on the proverbial treadmill and having lost sight of your goals and purpose?
Wanting to improve an area of your life—your relationship, finances, health, or career?
Then this course is for you!
Imagine what it would feel like to...
Have more clarity about your values, purpose and true desires?
Experience the peace of letting go with meaningful intentions?
Live in a beautiful home you love and use?
Reclaim your time and energy?
Reclaiming the time and energy that clutter and disorganization depletes.
Freeing up time, energy, and space, so you can be fully present to enjoy your life
Moving through your daily routines with ease, knowing that everything is in its place
Celebrate daily accomplishments while holding a vision for your future?
Feel empowered to live your dream life?
Get ready to experience a physical and spiritual shift, as you dive into the Five Practices to Change Your Home and Transform Your Life.
Course Overview
This program is about much more than organization -- it's about letting go of what's no longer serving you with intention and purpose.
It's designed to help you clarify your intentions, clear clutter inside and out, create space to connect with, and celebrate a life you're excited to show up for.
We'll give you practical tools and spiritual inspiration to take action and do the work.
Here's what you get:
Four 90 minute LIVE classes
LIVE Q&A and coaching
Guides and worksheets that inspire action
Access to a supportive community chat between classes on Facebook
Access to our platform, Teachable, where you can watch replays and download materials
Plus this BONUS:
In addition to all the content inside this course, you'll also get access to "Clear Clutter and Make Space for Your Dreams" course recording.
Join us!
LIVE classes begin Wednesday, February 3 at 5pm PST/8pm EST, and end on February 24.
Reserve your spot for a six-week journey to transform your home and your life. Your $297 payment gets you full access to our LIVE Classes, Q&A and Coaching sessions, starting February 3, 2021.
Too busy to join LIVE? No worries.
All classes are recorded so you can listen at your own pace... or do both... Either way, works!
Peek Inside the Course Content
Week 1: Clarify
Working with intention: From simple changes to tangible results
The connection between your home and your life
How to clear (and organize) inner clutter
How to set intentions for your home and life
Prepare to clear
Week 2: Clear
How you clear is as important as what you clear
Why clear clutter?
What is clutter?
How to identify the less obvious types of clutter that have the biggest impact on your happiness
How to Clear Clutter
Tips for clearing clutter
How you clear is as important as what you clear
Strategies for overwhelm
Habits to help shift your thinking from clutter to clarity
How to organize
Habits for prevent clutter
Habits to stay organized
Zero waste tips
How to clear other types of clutter (energetic, activities, emotional)
Week 3: Create
Creating a life you love with physical affirmations
Life Design
3 keys to manifesting
Physical affirmations
Conscious decorating and practical tips for organizing functional spaces
Live your dream
Conscious decorating: healthy, functional, comfortable
Transforming limiting beliefs in your homes
Tips for love (bedroom)
Tips for prosperity (front entrance)
Tips for Career (home office)
Tips for health (kitchen and eating areas)
Week 4: Connect & Celebrate
Transforming fears and limiting beliefs: be the energy you want to create
Transforming fears and limiting beliefs
Using your home to support spiritual practices
Homekeeping rituals and routines
Making peace with your things
Love your home & appreciation
Everyday living and celebration
Your Instructor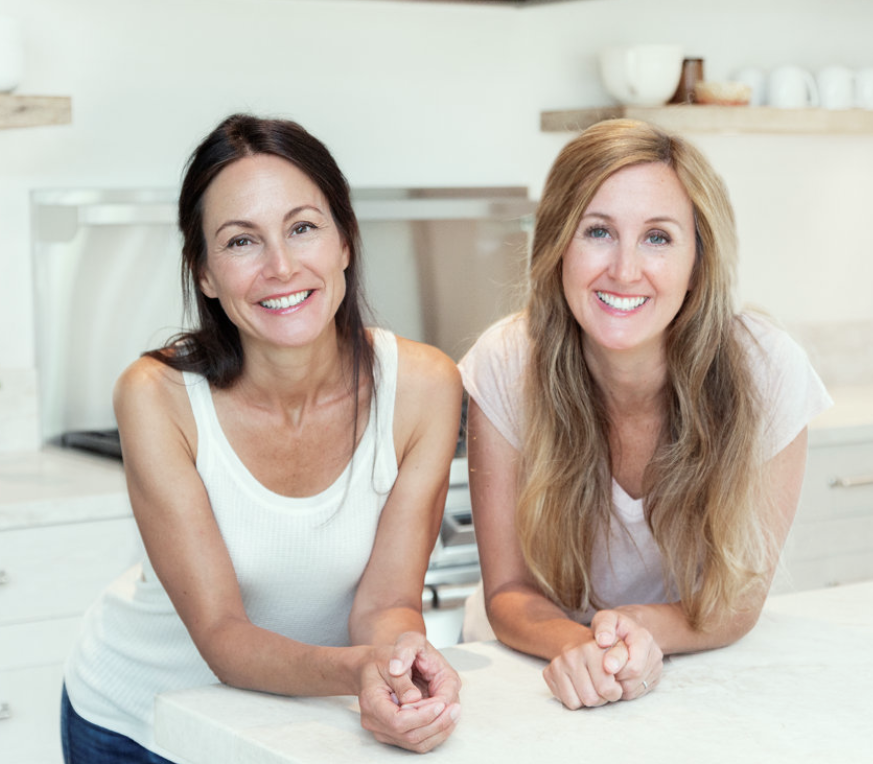 Laura and Alison are sisters, mothers, authors, speakers and co-founders of the lifestyle company, InspiredEverydayLiving.com. They wrote, Clutter-free Parenting: Making Space for the Magic of Childhood and Joy of Parenthood, The Peaceful Nursery: Preparing a Home for Your Baby, published by Random House, and Love at Home: The Single Girl's Guide to Feng Shui and Life Design.
Over the years, they have consulted with hundreds of clients from New York to LA. They have been featured on television and radio including the Today show, KTLA, KCAL CBS News at Noon, the Jennie McCarthy Show and in publications that include The New York Times, The Washington Post, The Chicago Tribune, Traditional Home, C Magazine, Angeleno, Daily Candy, and The Hollywood Reporter. They have also contributed to magazines and websites including Natural Home, YogiTimes, Intent.com, and Positively Positive.com.
Laura has a a Masters Degree in Spiritual Psychology from the University of Santa Monica and a Bachelors from Northwestern University and she is a Simplicity Parenting Coach ®. Alison has a Masters Degree in Education from Harvard University and a Bachelors from Tulane and is a Soul Coach ®. They are both graduates of The Western School of Feng Shui.
TESTIMONIALS:
"I met the most wonderful man on earth and after a short time we are now engaged. My love life is not the only area that improved, I've also made career and life changes as well. I can't thank Alison enough for her contribution toward all the positive changes in my life, I'll be forever grateful." – Lina, Client
"I thank Laura for helping me connect with my home and showing me that, for all its importance in my life, that its impact on my being is more powerful than I had ever imagined. The challenges in my life can be addressed from the place I call home and I feel moved to create love and peace within it." – Tori G., Interior Designer and Client
Frequently Asked Questions
When does the course start and finish?
The course starts now and never ends! It is a completely self-paced online course - you decide when you start and when you finish.
How long do I have access to the course?
How does lifetime access sound? After enrolling, you have unlimited access to this course for as long as you like - across any and all devices you own.
What if I am unhappy with the course?
We would never want you to be unhappy! If you are unsatisfied with your purchase, contact us in the first 30 days and we will give you a full refund.